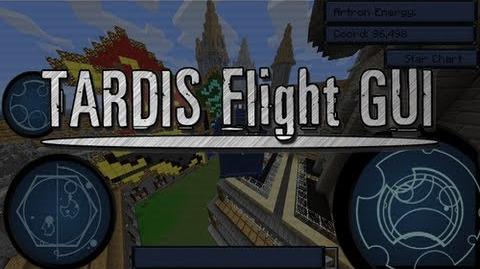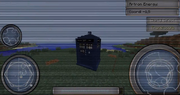 This lists the TARDIS features.
Known TARDIS Features
Edit
- Time Vortex. This will be a contain elements of several past time vortexes, and lots from the ISGC mod division staff's ideas. You fly the TARDIS in it (or set it on autopilot) for a short period of time. While flying, the TARDIS needs to avoid obsticles.
- TARDIS Flight GUI. This is a GUI that allows the TARDIS to fly. It has a super fluid animation for the TARDIS rotation.
- TARDIS Monitor GUI System. This is a GUI that lets you use different TARDIS GUIs. All TARDIS GUIs are accesible through this. You flip through different pages on the monitor, select what you want, and go! 
- Dressing Room GUI. This is a system independent from the TARDIS Monitor where you can change your clothes with other clothes/accesories you find. It is unkown if this is possible while not near the Wardrobe. Keep in mind, you have to participate in a certain amount of the story to unlock this feature!
- Rift System. This is a system that allows anything that detects, is powered by, or related to rift energy to know whether or not rift energy is nearby.
- Cheat Code GUI. This can be accesed through the TARDIS Monitor. You can also access it through a hotkey. You can type a cheat code that will then go into affect to make the DWCM easier for some people. However, you do have to find these cheat codes throughout planets and time eras before you can use them.
- Blink video. You can watch the 10th Doctor's video about the weeping angels from any TARDIS console screen.It acts as an easter egg.
- Ghetto Tardis. This cheat makes the TARDIS float and bob (like a ghetto car) while flying and play GirlaudioTV's Doctor Who Dubstep. This song is going to be remade by TheIKing to avoid copyright issues.
- Rift energy boost. This cheat gives the TARDIS a small boost of rift energy,
- TARDIS World Selection GUI. This is a GUI accessable from the TARDIS monitor that allows you to select your solar system, planet, time era, and x, y, z coordinates to travel to. It also contains comets and Wheatly, both of which fly around.
- TARDIS Desktop Theme Changer. It is unkown how this works, or how much customization will be given to it.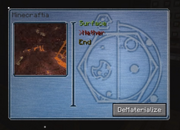 - Materialization/Dematerialization. This is activated when the TARDIS enters the Time Vortex. There is a bar that tells you how much longer there is until is it completely dematerialized.
- TARDIS Translocation. This allows you to materialize in a specific coordinate you set. Or you can randomly generate the coordinates. It has a safety feature which will detect if you materialize inside of a wall. If it detects a wall, you will rematerialize at your previous coordinates.