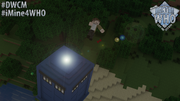 Cutscenes in the DWCM will appear in various key points in the story. All regeneration occurances will happen during a cutscene. They are all rendered in Maya.
Known Cutscenes
Edit
- Opening cutscene. This is played as soon as the world is created.
- Unkown cutscene. This cutscene takes place in Totters Lane.